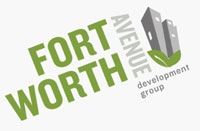 The following letter is from the President of the Ft. Worth Ave. Development Group on current developments surrounding the Sylvan/Thirty project.

There seems to be some confusion in the community as to the Fort Worth Avenue Development Group's position on the Sylvan/Thirty development, which we all as a community are eager to see launched.

The Sylvan/Thirty project has the potential to be a flagship development for our neighborhoods, and FWADG has worked very hard alongside the Oaxaca team for several years to bring this project to fruition. FWADG worked diligently to assist in the land parcel acquisition and was a primary player alongside Oaxaca Interests in the 2009 charrette that helped define a new look for Sylvan Avenue from the I30 intersection to Singleton Ave. and the adjoining properties to the north, south, east, and west of Sylvan.

View the Sylvan/Thirty Project Site Plan.